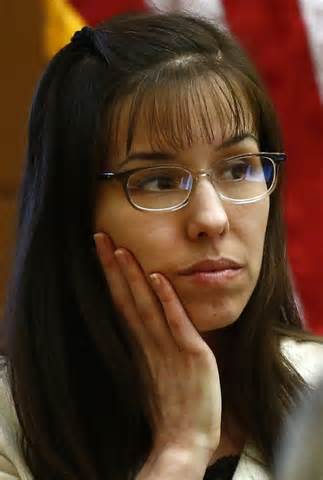 picture taken from www.lawyerherald.com, Murder Trial Day 16
Jodi Arias Penalty-Phase Retrial Delayed By Judge
PHOENIX (AP) — An Arizona judge on Wednesday granted Jodi Arias' motion to delay the start of her planned Sept. 8 penalty phase retrial.
Arias briefly addressed the judge Wednesday morning before the courtroom was closed to the media and public. The judge then granted Arias' request, setting a new retrial date for Sept. 29.
Defense lawyers and prosecutors declined to comment.
Arias, who is now serving as her own attorney, argued that she needed more time to interview an expert witness she plans to call during the retrial.
The 34-year-old former waitress was convicted of murder last year in the 2008 killing of her ex-boyfriend, but jurors couldn't reach a decision on her sentence. Under Arizona law, prosecutors have the option of putting on a second penalty phase with a new jury in an effort to secure a death sentence.
If the new jury fails to reach a unanimous decision, the death penalty will be removed as an option. The judge would then sentence Arias to spend her entire life behind bars or be eligible for release after 25 years.
Arias has acknowledged killing Travis Alexander at his suburban Phoenix home, but she said it was self-defense. He was stabbed nearly 30 times, had his throat slit and was shot in the head.
Prosecutors argued it was premeditated murder carried out in a jealous rage when Alexander wanted to end their affair.
Judge Sherry Stephens previously granted Arias' motion to serve as her own attorney after conflicts arose with one of her two court-appointed lawyers over trial strategy. Attorney Kirk Nurmi then sought to quit the case, noting in a motion that "a completely fractured relationship between counsel (and client) now exists."
Stephens denied his request. Both lawyers will remains on as advisers.
A hearing in the case is set for Sept. 4.
BOTTOM LINE:
The Judge forcing her attorneys to remain on as her counsel is a bad idea and places both Arias and her attorneys in a precarious position.  A lawyer has a duty to zealously fight for their client, however, they can only do so when they have a strong attorney and client relationship.  In this case, both sides would agree that relationship is shattered.
This can place Arias in danger because the attorneys may not feel that they can represent her zealously due to the break in the relationship.  The attorneys can do their best, but, they are human  and have human feelings.  When there is an issue between an attorney and client, it is often best that new counsel is sought if there is any indication that the issues cannot be resolved.
Likewise, Arias does not want them to represent her.  She has made clear she wants to represent herself.  ONLY A FOOL OF A DEFENDANT WOULD REPRESENT HERSELF IN COURT!
Although, this may work to her advantage, in that she may appear friendly and more human to a jury, as she will have more direct contact with them, now.  All she needs to do is influence them not to give her the death penalty for her strategy to be a success.  Often easier said than done.