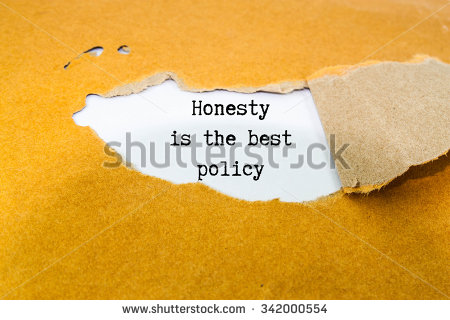 Honesty is Always the Best Policy
Honesty With Attorneys:
Many people come to an attorney thinking they can tell them the minimum about their situation and garner maximum results. This simply is not the case.  Unfortunately, it has happened much more lately than I care to admit. As attorneys, we ask questions for a reason and we assume those answers are being given completely and accurately by the client – unless we have reason to know otherwise. Having said that, I do everything I can to zealously represent each current client and to accurately give advice for each potential client. However, as an attorney, I cannot give you the best advice if you are not completely forthcoming with me.
The Importance of Honesty:
I know there are many attorneys out there who feel my pain. Do not withhold information willingly and tell your attorney everything that may adversely affect your case – no matter how minute the issue may be. Honesty can mean the world to your case.
Cornerstone of Honesty:
Honesty can make or break your case.  Too often, attorneys try to defend their client's ability to tell the truth.  Too often, their client's honesty is in jeopardy – whether is be a criminal matter, family law matter (especially true in divorces or child custody disputes), or immigration matter.  The impact of honesty can have a profound effect on who you are as a person and how the world sees you.  This is especially important because it can change how a judge sees you and views your testimony.  This can cause your case to go down the drain.  At that point in time, it is too late for honesty to kick in.  It does not matter how good an attorney you have – they cannot fix a lack of someone who does not tell the truth.